So, I seem to have fallen out of the swing of blogging on any sort of regular basis. I thought maybe I'd get back into the swing of things with a Wayback Wednesday post. This one works particularly well because it is my mother's recipe and her birthday is this month and I am seeing her this weekend, yay! And, my good pal Jennifer Myszkowski was recently discussing the clumping properties of homemade granola on Facebook which made me want to make some soon.  This post originally appeared over at Valley Victuals on March 18, 2007.
Mother Is Always Right
This weekend, I decided it was time to give my mother's granola recipe its due. As much as I liked the other one, my husband felt that my mother's was much better and I've always liked it too. I got out the recipe and immediately thought, "No wonder it tastes so good! There's a whole stick of butter in there."
First, you combine the dry ingredients in a large bowl. I used whole almonds instead of sliced, and also added about a cup of chopped walnuts.
Next, you put the wet ingredients in a bowl and melt them all together in the microwave. Right away, I had a problem. I didn't have enough maple syrup. What to do? What else is sticky and sweet? I thought about the almond butter, but was worried about having enough sweetness. I checked the cabinet and I had honey and molasses. Hmmm. I squirted out some honey into the mix, but then got concerned about the honey flavor taking over. I decided to make up the balance with a mix of the almond butter and a little molasses, which is very sweet. I didn't want to go all molasses when my mother reminded me of a childhood incident involving the laxative properties of molasses and the leaky properties of my diapers.
So there's the mix. Looks tasty, doesn't it? After melting and mixing, it was homogenized and ready to pour over the dry stuff and mix. I liked consistency of the mix. I've been wanting a granola that would clump a little more than the other one or my mother's has so far, and I wondered if I was on to something with the molasses and the almond butter. Look how it glistens after I spread it out on the cookie sheet: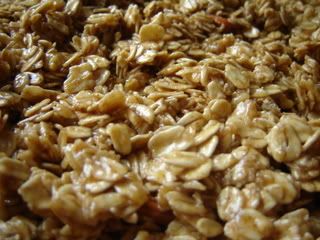 This recipe calls for a longer cooking time at a lower temperature. You bake at 300 for about an hour, flipping it every 15 minutes. I was even more hopeful for clumpiness when I did the first flip.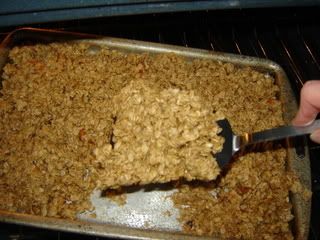 It came up off the sheet in big squares with the spatula. With subsequent flips, it started to break apart a little more. I kept a close eye on it for the last 15 minutes, and ended up cooking it for another 10 before I pulled it out. It looked golden brown and lovely. I mixed in mixed jumbo raisins, some regular raisins, and some Craisins. Don't the red Craisins look pretty in there? Like little jewels.
As for the clump factor, it mostly fell apart, but did cling better than the other recipe.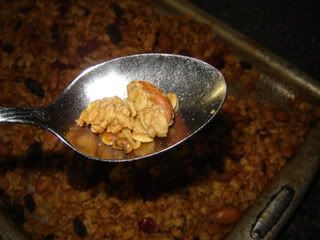 (Note the almond, half enrobed in clumpy granola goodness.)
As for the taste, we have a winner here. I couldn't detect any real effect from the molasses or honey, but the almond butter gave it warm richness that my mother would probably even approve. I might try a variation on this again with a little less butter to lighten it up, but otherwise, I think I will stick with this version in the future.
My Mother's Granola Recipe
I am not sure where she got this recipe, but this is the original below, without the changes I made.
5 cups old-fashioned oats (not instant)
1/2 cup non-fat dry milk
1 cup sliced almonds
1 stick of butter
2 teaspoons vanilla extract
1/2 cup water
3/4 cup pure maple syrup
Mix dry ingredients in a large bowl.
Place syrup, butter, water and vanilla in a bowl and heat until butter is melted.  Pour over dry mix and gently stir until moistened.
Spread on a cookie sheet and bake at 300 degrees, turning every 15 minutes. It should take about an hour to an hour and 15 minutes to cook. It will turn golden when finished. (Don't get distracted. When it is almost done, it will change color fast and I have let it go too long and had to start over!  Enjoy!)